[ Gary-Wright.com ] → Home Page
Gary Wright II
LGBTQ Activist
Corporate Executive - President & Chief Executive Officer of Clever Things, LLC
3D Animator using Blender 3d, Gimp, and Krita
Creator of the Pride Against Prejudice™ project.
Creator of the "Leelah!"™ animated series.
Plaintiff in historic Alabama class action lawsuit that won statewide marriage equality (Strawser v. Strange)
Pro Se Plaintiff in lawsuit against the corruption in the Veterans Administration (Wright v. United States, et al)
Hardware & Software Engineering
Expert on RADAR for military & civilian use
Expert on robotics & software automation
Veteran of the United States Navy (FC2/E5/Petty Officer 2nd Class - NEC 1143 Aegis FCS/ORTS)
Plankowner of US Navy Aegis destroyer USS Stout (DDG-55)
Recipient of the Navy Achievement Medal
Awarded the SAR Good Citizenship Medal
Victim of discriminatory Don't Ask, Don't Tell (DADT) policy
Correspondence with President Barack Obama
Correspondence with President Bill Clinton
Correspondence with President Ronald Reagan
Correspondence with numerous members of Congress
Spent a day with the legendary Isaac Hayes
Spent a day with Civil Rights hero Congressman John Lewis
Spent a week with the mummy of Egyptian Pharaoh Ramesses I
---
Latest Media Appearances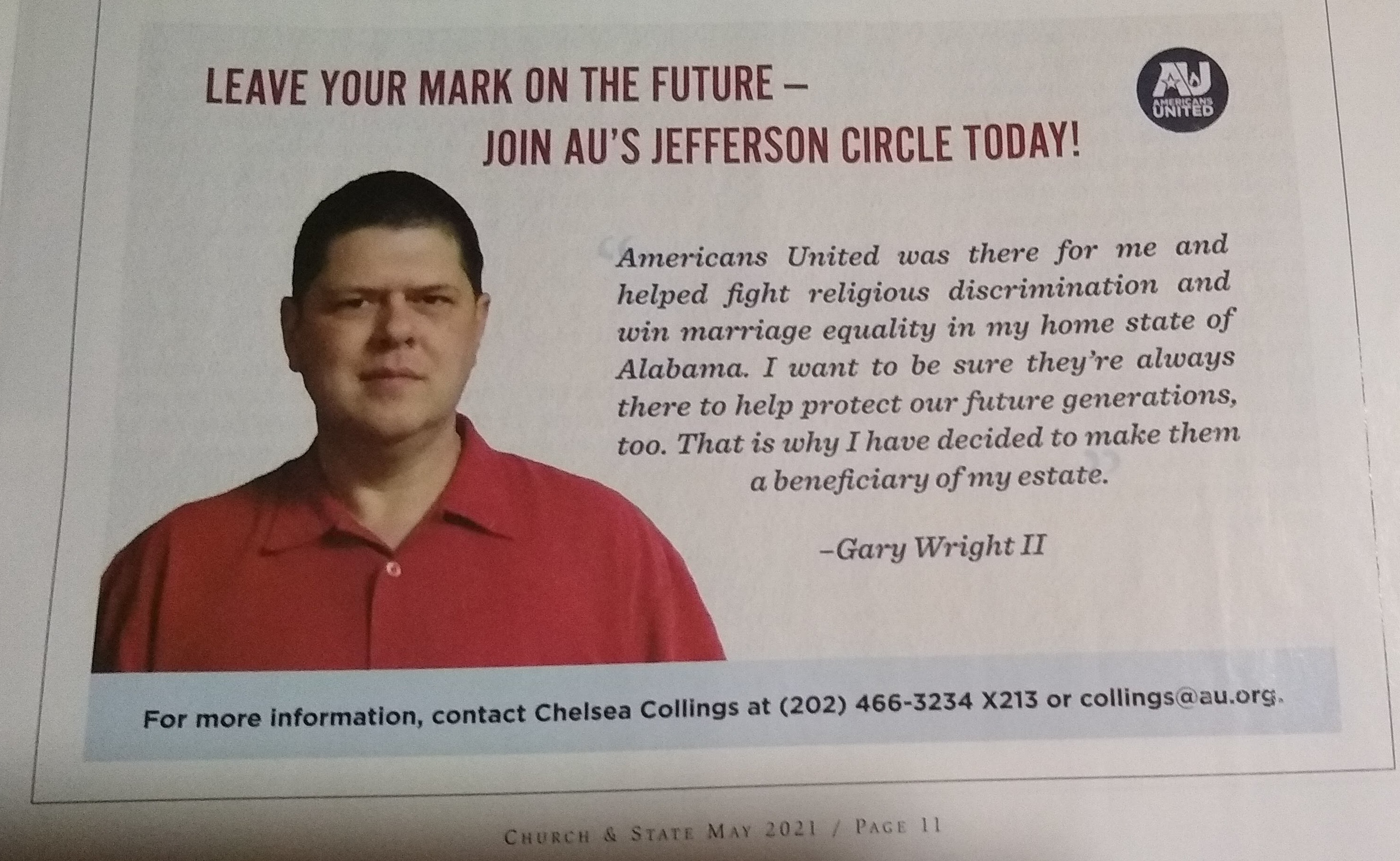 May 2021 Church & State Magazine - Join Americans United for Separation of Church and State
On Friday, July 12th, 2019 I attended the Lights for Liberty Vigil in Huntsville, Alabama to close the concentration camps and stop putting immigrant kids in cages. The video of the event is posted on my YouTube channel.
I attended the 2019 Rocket City Pride Parade in Huntsville, Alabama and here's video of the parade.
Read my op-ed posted at BamaPolitics.com on the importance of LGBTQ visibility after Alabama Public Television refused to air an episode of the children's cartoon Arthur that featured a same-sex marriage.
Read my interview in the American Bar Association Journal regarding the elimination of marriage licenses in Alabama.
---
Gay & Lesbian
Gary is currently working on writing a screenplay and book about the struggle for equality in the South. The movie has started pre-production in Alabama, and scheduled for final production in Atlanta, Georgia in 2022. Visit his Pride Against Prejudice project for a collection of online resources for LGBTs, their parents, families, and friends.
Gary was a Named Plaintiff in the historic Alabama Strawser v. Strange class action lawsuit which won marriage equality statewide, struck down sections of the Alabama Constitution as discriminatory, and obtained a permanent injunction against the State.
Gary testified at the Alabama Senate Judiciary Hearing against the 2015 HB56 Marriage RFRA.
In Huntsville, Alabama, Gary was awarded a CommUNITY Award at the 2015 Rocket City Pride Festival.
Gary is a proud ally and supporter of the Franklin County High School (FCHS) Gay - Straight Alliance (GSA) in Winchester, Tennessee. See my activism page for video and transcripts.
---
Struggler™ Music
No relation to the musician famous for Dream Weaver, Gary Wright II was the guitarist and founder of the 80's rock band Struggler™.
Mr. Wright is currently working on a new Struggler album entitled Resurrection that will be the soundtrack for his limited series Pride Against Prejudice.
---