[ Gary-Wright.com ] [ The Wright Perspective Blog ] [ The Wright Perspective Blog 2012 Archives ] →
The Wright Perspective℠
Social Commentary from the C-Suite to Main Street℠
A Blog by Gary Wright II
Happy New Year 2012! The Year Ahead
Sunday, January 1st, 2012
We hope that 2012 will bring you good health and great prosperity!
---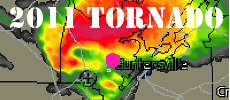 The past year was full of loss and despair as our community was hit by a tornado outbreak in April of 2011. Months have gone by, and many in our community are finding it very difficult to recover from such a tragic event. Our thoughts and prayers go out to everyone affected by the storms.
---
Our project "Cherokee Tears" has been merged into Cherokee.CleverPeople.com as we continue our effort to educate others about the Tsalagi Cherokee Native Americans.
---

Our guide to nightlife in Atlanta at NightlifeInAtlanta.com has been designed and is currently still in the development phase. We are excited by the opportunity to show off Atlanta nightlife to the rest of the world.
---
The Wright Perspective℠ blog is still active and we've received several compliments on the honesty and wide variety of topics. As Mr. Wright is working on his memoirs, posts to the blog at times may be sporadic, but due to its popularity it will be an active and ongoing project.
---
Development on our flagship web site CleverThings.com continues as we add new sections for business and technology. The next phase of development will be the creation of our own search engine which will search the world for clever things.
---
A huge upcoming project will be the development of our own social networking web site at CleverPeople.com. It will feature email, an online diary, business networking, and dating.
---
The first phase of CleverGiftIdeas.com will be online product reviews. The second phase will be adding e-commerce capabilities to the site as we re-open out gift shop.
---
The only official web site for our President / CEO Gary Wright is Gary-Wright.com. The writing of memoirs is well underway and a new section called "Gary's Guide to..." will be quite popular.
---
The songs on the upcoming Struggler album Resurrection is being written, and our production department will be heavily involved in its development.
---
A childhood dream of visiting Egypt may finally come true for our CEO Gary Wright II, but due to the recent uprisings in Egypt, the trip has been postponed.
---
We thank our employees, customers, and friends for over a decade of success. We look forward to the year ahead!