[ Gary-Wright.com ] [ The Wright Perspective Blog ] [ The Wright Perspective Blog 2012 Archives ] →
The Wright Perspective℠
Social Commentary from the C-Suite to Main Street℠
A Blog by Gary Wright II
My Quest to Find the Legendary Uktena Horned Serpent
Tuesday, April 17th, 2012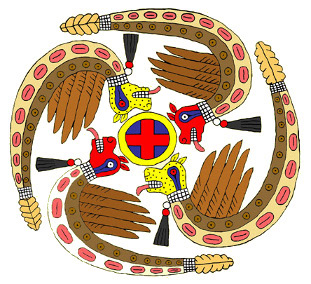 Four Uktena by Herb Roe, based on a shell engraving from Spiro, Oklahoma.
Throughout the history of mankind, and in cultures around the world, generations of people have passed down stories of a legendary horned serpent. For the Tsalagi / Cherokee tribes, this snake was known as an Uktena.
Join my quest to find the Cherokee Uktena.