[ Gary-Wright.com ] [ The Wright Perspective Blog ] [ The Wright Perspective Blog 2012 Archives ] →
The Wright Perspective℠
Social Commentary from the C-Suite to Main Street℠
A Blog by Gary Wright II
2011 Tornado Outbreak - A Year Later
Friday, April 27th, 2012
A very somber mood today in Alabama as we mark the one year anniversary of the deadly tornado outbreak.
It was the 3rd deadliest in US history with 362 tornadoes reported. Not just the number of storms was remarkable, but the strength of the storms with two EF-5's, eleven EF-4's, and twenty-one EF-3's.
A year later, many communities are still struggling to recover from the storms. In the Ruth community, some houses have been rebuilt, but there are no signs of the large trailer park that used to be there. Most people lost everything they owned, and many didn't own much to start with.
I'm in awe at how Mother Nature can so easily wipe away all signs of human existence. The stubby trees are regrowing their limbs, but all things man-made are still scattered for miles and miles.
We are sad because of the lives we lost, but we are so thankful for the blessings we have with our families and friends. We may forever keep a wary eye on the horizon, but we'll always be hopeful to rebuild our communities better, and stronger than before.
You can see the RADAR images, videos, and aftermath photos of the storms on our 2011 Tornado pages.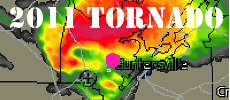 Best regards,
-- Gary Wright II